Herculaneum in Pictures
May 2018 update.
Jackie and Bob are pleased to announce the first update to HerculaneuminPictures, the companion site to our PompeiiinPictures offering.
We have been overwhelmed with the reception that HerculaneuminPictures has been given by all of you and are pleased you have found it useful.
Thanks to everyone who has sent us photos.
We would particularly like to thank Nicolas Monteix for his many photographs and help that have considerably widened our coverage of Herculaneum.
We would also like to thank Sera Baker for her many pictures that have also helped us expand coverage, particularly her underground photos of the Theatre, where access is impossible to come by these days.
Our thanks to the Skulpturensammlung, Staatliche Kunstsammlungen Dresden, for allowing us to use their photos of the Herculaneum Women taken by Ingrid Geske. The Herculaneum Women were the first significant finds at ancient Herculaneum in 1711. They are among the best preserved of all the sculptures found there, virtually intact. They probably once decorated the Theatre stage's impressive double-tiered façade but were removed by Prince D'Elboeuf and presented as a gift to Prince Eugene of Savoy in Vienna soon after. You can see these on the Theatre page.
The Augusteum, the Basilica Noniana and the Theatre have had major makeovers as have many other pages. The theatre page now has a high resolution copy of the original 1739 Theatre plan by Alcubierre along with its full Spiega (Key or legend) in Italian which was published later.
We have added new categories for Baths and Streets.
The Augusteum, Basilica Noniana and the Casa dei rilievi dionisiaci now have links on the left of every page.
There is a link to PompeiiinPictures which you can access from the left hand menu on every page.
All this builds on our original photos and those of Michael Binns, Peter Woods and Buzz Ferebee that enabled us to build the site.
We would also like to thank Professor Andrew Wallace-Hadrill for allowing us to use material from his book Herculaneum Past and Future. (Wallace-Hadrill, A. 2011. Herculaneum, Past and Future. London, Frances Lincoln.)
So many houses in Herculaneum are closed and under restoration which means that our coverage is still limited in places.
We look forward to expanding the coverage wherever the Parco Archeologico Ercolano allows access and whenever you can send us photos that fill gaps, add artefacts or enable comparisons over time to be made.
Our Pompeii sites www.pompeiiinpictures.com and www.pompeiiinpictures.org continue to be available separately but the Herculaneum and Pompeii web sites are now linked so you can move between them, whenever you wish.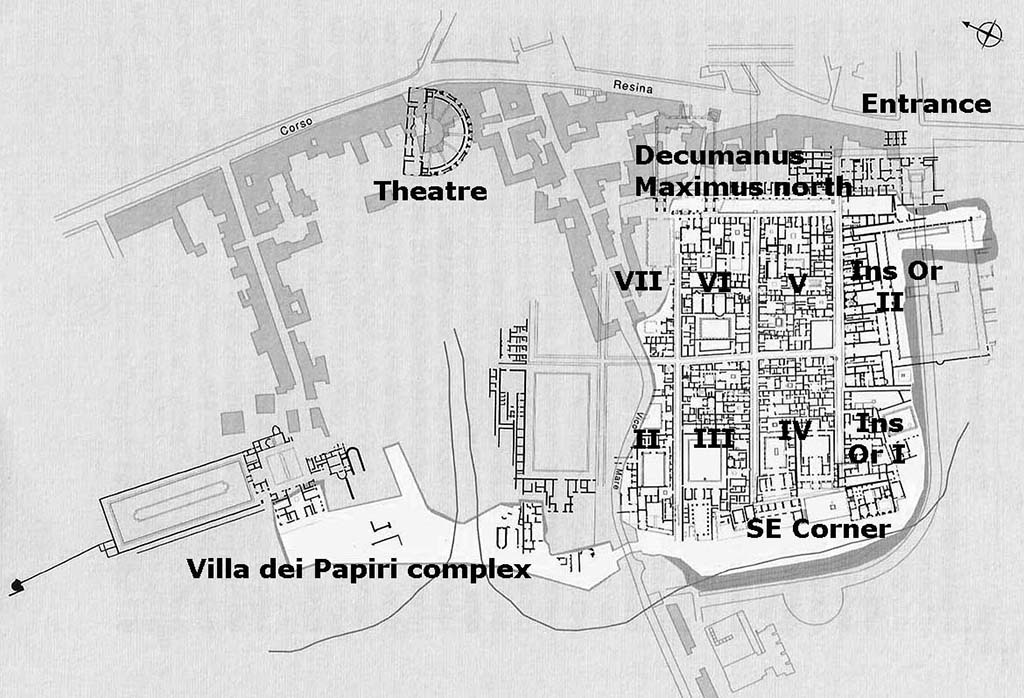 Plan based on that in Pesando F. and Guidobaldi M. P., 2006. Pompeii, Oplontis Ercolano et Stabiae. Roma: Laterzi.
The areas in grey are still underground and thus not visitable.
Click on the plan above or the links below to start to see the photographs for that area.
The old entrance to the excavations is also on the plan so by clicking on that you can walk down the path from there to the new ticket office, down to the excavations, looking at the south-east corner from above and across the bridge joining the excavations between insula II and Insula III.
Entrance and south-east corner
South-east corner, baths, terrace, sacred area and boatsheds with skeletons
Villa dei Papiri complex including the Villa of the Dionysiac Reliefs and seaside pavilion
We hope you enjoy HerculaneuminPictures and that it will both inspire you and help you plan your next trip to Herculaneum.
Jackie and Bob Dunn