Herculaneum V.30. Casa dell' Atrio Corinzio or House of the Corinthian Atrium
Plan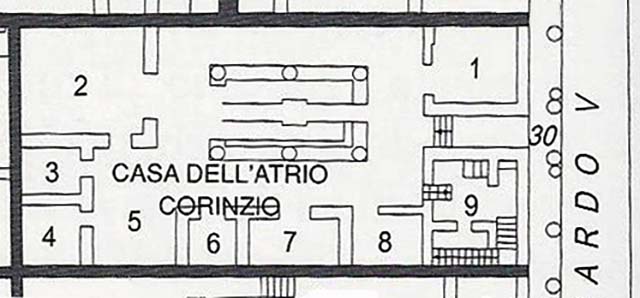 Herculaneum V.30. Plan. Casa dell' Atrio Corinzio or House of the Corinthian Atrium.
See Pesando F. and Guidobaldi M. P., 2006. Pompeii, Oplontis Ercolano et Stabiae. Roma: Laterzi.
Key:
Room 1, Oecus 1, on right of fauces, floor mosaic.
Room 2 Triclinium, north-west side of atrium – only a few traces of the one-time luxurious decorations, with black panels above a red dado.
Room 3, probably a cubiculum, room with paintings showing naval battles.
Room 4, probably a cubiculum.
Room 5, ala on south-west side of atrium
Room 6, probably a cubiculum.
Room 7, in centre of south side, blue aedicula with cupids in flight, floor mosaic, ceiling in 3 panels on white background, with cupid and sea-monsters.
Room 8, room on SE side of atrium.
Room 9, is kitchen, SE corner next to fauces, with stove, latrine and stairs for the upper floor.
See Guidobaldi, M.P, 2009: Ercolano, guida agli scavi. Naples, Electa Napoli, (p.94 and plan).