Herculaneum in Pictures
February 2020 update
Jackie and Bob are pleased to announce a major update to HerculaneuminPictures, the companion site to our PompeiiinPictures offering.
New categories have been added for
- Fountains, water towers, lead pipes and drainage: Water
- The boat exhibition building: Boat exhibition
The reopened House of the Bicentenary has been updated. Bicentenary
Most of our pages have been updated in either a major or minor degree also.
Our thanks to Klaus Heese, Buzz Ferebee, Rick Bauer and the many others who have sent us their photos.
Mobile friendly
The menu system has been replaced with a simpler one that allows the site to be used on smaller screens such as mobile phones, tablets and Ipads.
Menus are now at the top only and the side menus have been discontinued to give more space for photos on smaller screens.
Access is also given to the many villas in the surrounding area using the "Surrounds" button on each page.
Your photographs
If you have photographs that will expand or fill gaps in our coverage, or are in closed houses or upper floors or add artefacts or enable comparisons over time to be made then please send them to us.
Pompeii
Our Pompeii sites www.pompeiiinpictures.com and www.pompeiiinpictures.org continue to be available separately but the Herculaneum and Pompeii web sites are now linked so you can move between them, whenever you wish.
Aggiornamento febbraio 2020
Jackie e Bob sono lieti di annunciare un importante aggiornamento di HerculaneuminPictures, il sito che accompagna la nostra offerta di PompeiinPictures.
Sono state aggiunte nuove categorie per
- Fontane, torri d'acqua, tubi di piombo e drenaggio: Acqua
- Edificio con mostra in barca: Mostra in barca
La Casa del Bicentenario riaperta è stata aggiornata. Casa del Bicentenario
La maggior parte delle nostre pagine sono state aggiornate anche in misura maggiore o minore.
I nostri ringraziamenti a Klaus Heese, Buzz Ferebee, Rick Bauer e ai tanti altri che ci hanno inviato le loro foto.
Mobile friendly
Il sistema di menu è stato sostituito con uno più semplice che permette di utilizzare il sito su schermi più piccoli come cellulari, tablet e Ipad.
I menu sono ora solo in alto e i menu laterali sono stati eliminati per dare più spazio alle foto su schermi più piccoli.
L'accesso è dato anche alle molte ville nei dintorni utilizzando il pulsante "Surrounds" in ogni pagina.
Le vostre fotografie
Se avete fotografie che espandono o colmano le lacune della nostra copertura, o si trovano in case chiuse o ai piani superiori o aggiungono artefatti o permettono di fare confronti nel tempo, allora vi preghiamo di inviarcele.
Pompei
I nostri siti di Pompei www.pompeiiinpictures.com e www.pompeiiinpictures.org continuano ad essere disponibili separatamente, ma i siti di Ercolano e Pompei sono ora collegati in modo da potersi spostare tra di loro, ogni volta che lo si desidera.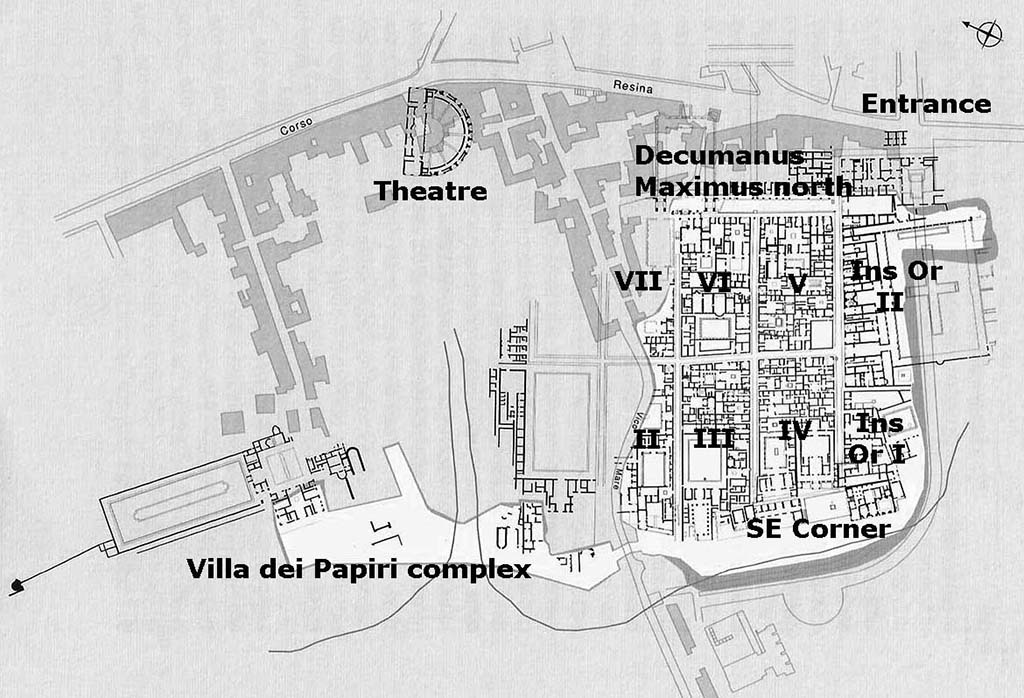 Plan based on that in Pesando F. and Guidobaldi M. P., 2006. Pompeii, Oplontis, Ercolano et Stabiae. Roma: Laterzi.
The areas in grey are still underground and thus not visitable.
Click on the plan above or the links below to start to see the photographs for that area.
The old entrance to the excavations is also on the plan so by clicking on that you can walk down the path from there to the new ticket office, down to the excavations, looking at the south-east corner from above and across the bridge joining the excavations between insula II and Insula III.
Piano basato su quello di Pesando F. e Guidobaldi M. P., 2006. Pompei, Oplontis, Ercolano et Stabiae. Roma: Laterzi.
Le aree in grigio sono ancora sotterranee e quindi non visitabili.
Clicca sulla planimetria qui sopra o sui link sottostanti per iniziare a vedere le fotografie di quell'area.
Anche il vecchio ingresso agli scavi è sulla planimetria, quindi cliccandoci sopra si può percorrere a piedi il sentiero che da lì porta alla nuova biglietteria, fino agli scavi, guardando dall'alto l'angolo sud-est e attraversando il ponte che unisce gli scavi tra l'insula II e l'Insula III.
Entrance, boat exhibition and south-east corner
South-east corner, baths, terrace, sacred area and boatsheds with skeletons
Villa dei Papiri complex including the Villa of the Dionysiac Reliefs and seaside pavilion
We hope you enjoy HerculaneuminPictures and that it will both inspire you and help you plan your next trip to Herculaneum.
Jackie and Bob Dunn
Ci auguriamo che vi piaccia HerculaneuminPictures e che vi ispiri e vi aiuti a pianificare il vostro prossimo viaggio ad Ercolano.
Jackie e Bob Dunn