Herculaneum VI.1-10. Terme or Thermae Centrali or Central Baths
Plan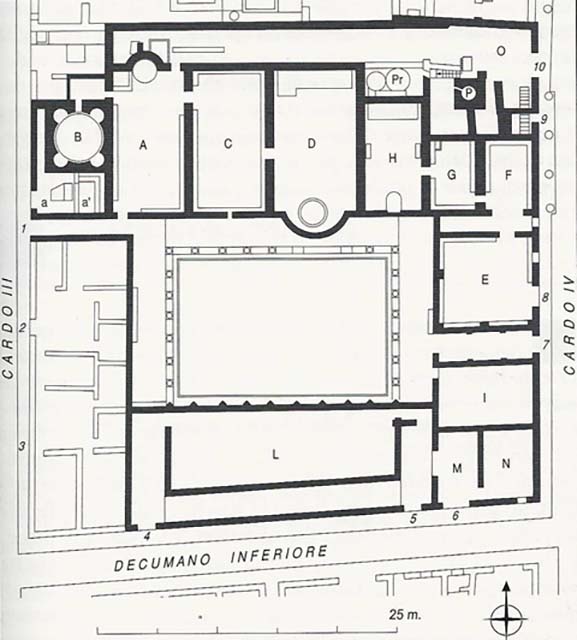 Herculaneum VI.1-10. Terme or thermae Centrali or Central Baths. Plan.
See Pesando F. and Guidobaldi M. P., 2006. Pompeii, Oplontis Ercolano et Stabiae. Roma: Laterzi.
Entrances
West side [VI.1], East side [VI.7] [VI.8], South side [VI.4] [VI.5],
Shop [VI.6], Service area [VI.10]
Mens baths [VI.1]
A Mens baths Apodyterium
B Mens baths Frigidarium
C Mens baths Tepidarium
D Mens baths Calidarium
Womens baths [VI.8]
E Womens baths Waiting room
F Womens baths Apodyterium
G Womens baths Tepidarium
H Womens baths Calidarium
Palaestra
Palaestra (unnumbered) [VI.1] [VI.5] [VI.7]
I Waiting room for the palaestra or massage and ointments room [VI.7]?
L Open area exercise yard [VI.4] [VI.5] possibly sphaeristerium where the ball game (pila) was played
Shops
M Shop [VI.6] also accessible from exercise yard [VI.5]
N Shop [VI.6] rear room
Service areas
O Well with lifting wheel [VI.10]
P Praefurnium [VI.10]
Pr Praefurnium [VI.10]
Other
a Doorkeepers site [VI.31]
a' Latrine [VI.31]
Small room with stone bench [VI.9]