Herculaneum VII.2. Casa di Galba or House of Galba
Plan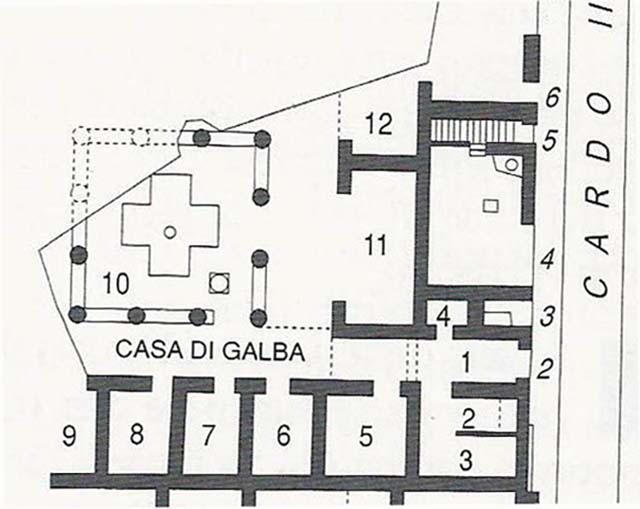 Herculaneum VII.2. Casa di Galba or House of Galba.
See Pesando F. and Guidobaldi M. P., 2006. Pompeii, Oplontis Ercolano et Stabiae. Roma: Laterzi.
Guidobaldi wrote that originally the dwelling occupied a larger site than seen today, and the main entrance probably opened onto Cardo II, not yet excavated into the open air, whilst the actual entrance doorway to the dwelling today which opens at no. 2 on Cardo III, was originally the rear entrance near the peristyle area.

Room No. 1 is the entrance corridor/fauces.
Room No. 2 is the kitchen.
Room No. 3 is the latrine.
Room No. 4 is the Cella Ostiaria.
Room No. 5 is a cubiculum?
Room No. 6 is a cubiculum?
Room No. 7 is a cubiculum?
Room No. 8 is a cubiculum?
Room No. 9 is a cubiculum?
Room No. 10 is the peristyle, with a cruciform pool lined with marble and with cylindrical columns, in the middle of which was a prominent fountain. The original columns were reused but were covered with red stucco and the inter-columnations were closed with low walls, except those near the exedra. 
Room No. 11 is the exedra. The most prized room of the house, with flooring of cocciopesto, and vivid wall decoration of fantastic architecture.

See Pesando, F. and Guidobaldi, M.P. (2006). Pompei, Oplontis, Ercolano, Stabiae. Editori Laterza, (p.371-2)
See Guidobaldi, M.P, 2009: Ercolano, guida agli scavi. Naples, Electa Napoli, (p.115).