Known technical Issues and solutions
Pictures may not display correctly or have the wrong description underneath
On Firefox Release 100 some of pictures may not display at the correct size or with the wrong description underneath.
This appears to be an issue particularly if you use the https://herculaneuminpictures.com or https://herculaneum.uk version without the www in it.
There are three options we have found worked to clear this issue for us.
(i). Clear your cache in Firefox:
1. Press the three line icon on the top right.
2. Press History.
3. Press Clear Recent History.
4. In Time Range to Clear:
Select Everything.
5. In History and Data
Tick the Cache box only.
Clear all the other boxes.
Your box should look like this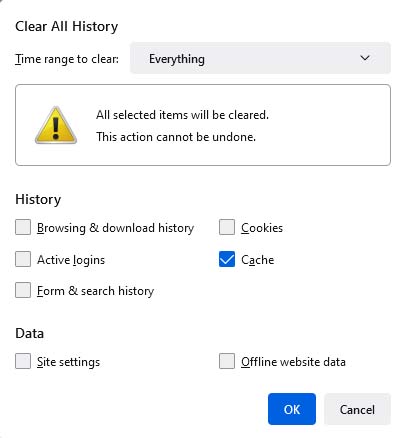 6. Press OK.
or
(ii). Add www to the Firefox address e.g. https://www.herculaneuminpictures.com or https://www.herculaneum.uk.
This will only last for as long as you are using the page, once you close the browser the problem will re-occur.
or
(iii). If you have the site or page bookmarked you can update the bookmark to contain the www and save it for future use.
Our plans are obscured in part
If your Firefox browser is release 93 you may experience some of our plans being obscured in part.
i. There is a change that can be made to the advanced Firefox settings that worked for us (see https://support.mozilla.org/en-US/questions/1355291) but this comes with lots of warnings so we anticipate that not all of you may want to do this.
ii. Until you update to a new release of Firefox we suggest that, as a workaround, you refresh the page using the circular arrowed button at the top of the page or you click elsewhere on the page somewhere off the obscured picture.
iii. Browser versions before and after 93 do not have this issue so you could update to a newer version.
Plans links on smaller screens
Our plans and photos automatically reduce in size to fit smaller screens.
The pressable hotspot links however do not resize..
Pressing these links may take you to the wrong location.
This is unfortunately a feature of the web and there is no way to automatically resize the links.
Our solution is to include individual links which you will find underneath the plans.
Pressing these on any size screen will get you to the right location.
Other technical issues
We are not aware of any other current issues.
If you have a technical issue that is not identified here, please contact us.
The content of our web sites is regularly being updated and new excavations, villas, tombs, areas and information are constantly being added.
Please check back regularly to see this new information.
We are always happy to receive new photos and material that improves the site.